Dennis of
Too Many Verlanders (nee Grandersons)
, and better yet,
Too Many Manninghams
(which I think should be Too Many Hennes), recently sent me some cards of comfort. He was comforting me for the Sugar Bowl loss that my Hokies faced at the hands of his Wolverines. We had a little bet going on the game...$10 in COMC cards...that he won, and he will receive as soon as I get them packaged.
In the meantime, he decided to start a trade and send cards to me as a little gauze for my wounds. Well, being the savvy Blowout Forums guy that he is, he came up with a stack of cards that have me in a permanent state of owing. I've got some stuff to send him in a trade, but I think it'll take more than one package to birng us even.
When I got his package, two chunks fell out, the first was a selection of cards for my want lists and PC lists: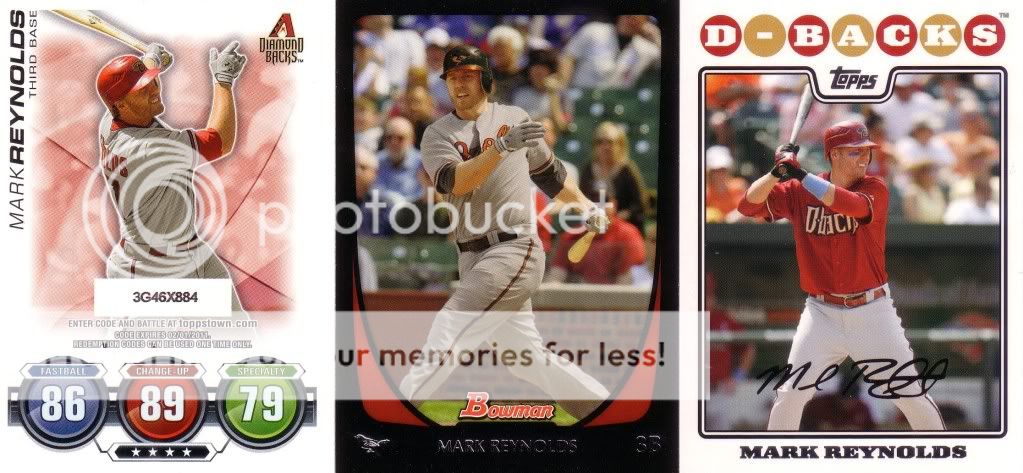 Ok, I would have been ecstatic with that. Dennis, however, was not through. He included a couple of Sizemore Siggies:
I already had both of them, but was more than happy to take them off his hands. Strangely, the Bowman Refractor Auto I had before was #244/500, and this one is #344/500. Anyone seen #044,#144, and #444?
What happened next was way beyond my expectactions. My expectation was for maybe a card or two of former Hokies. The first call to fall out was this:
2008 Score Select Inscriptions Xavier Adibi Autograph #105/375
Awesome. It'll go nicely with the Adibi auto
he sent me
a while back. The next few cards were also awesome. He went LeBron on me, because he sent me not one,
2007 Playoff Contenders David Clowney Rookie Ticket Autograph
Not two,
2007 SP Authentic David Clowney Rookie Authentics Signatures #0144/1199
Not three,
2007 Upper Deck Trilogy David Clowney Autograph #003/113
but four David Clowney Autos!
2007 SP Authentic David Clowney Sign of the Times Autograph
Unbelievable. There couldn't possibly be any more cards, could there? Oh yes, there were more. This time, he hit one of my all-time favorite Hokies from my time at VT: Eddie Royal.
2008 Upper Deck Icons Eddie Royal Rookie Brilliance Jersey #012/199
I've run out of things to say about this trade. It was too incredible. And I'm not done...I'll let the rest of the scans speak for theirselves:
2008 Threads Eddie Royal Rookie Collection Jersey #406/500
2009 Playoff Prestige Eddie Royal Preferred Jersey #006/100
2008 SPx Eddie Royal Rookie Materials Star and Position Dual Jersey #117/149
2008 SPx Eddie Royal Rookie Materials AFC/NFC Dual Jersey #92/99
Needless to say, I was exhausted after this package. My wife was, too, as I repeatedly said, "Holy S***! Check this out!"
Dennis, I should hopefully be getting your package out soon. Thanks, again, I'm floored.