2011 Topps Opening Day. Remember that stuff? You know, the product that seems like it was out for a day or so before the Heritage craze completely swallowed it up. Well, between Heritage posts (I'm guilty, too) I might as well show a pack of Opening Day. This wasn't a regular retail pack, this was a rack pack/jumbo 24 cards for $3 thingy from Target.
69 Lance Berkman
49 Yonder Alonso RC
63 Manny Ramirez
116 Torii Hunter
118 Rafael Soriano
33 Kyle Drabek RC
107 Scott Rolen
99 Clay Buchholz
23 Chris Johnson
89 Pablo Sandoval
203 Neftali Feliz
127 Nick Swisher
135 David Ortiz
19 Carlos Marmol
5 David Wright
130 Justin Morneau
60 Aroldis Chapman RC
22 Hunter Pence
219 Matt Garza
39 Kurt Suzuki
TTOD-13 Ian Desmond ToppsTown
SC-12 Matt Garza Superstar Celebrations
PFP-8 George W. Bush Presidential First Pitch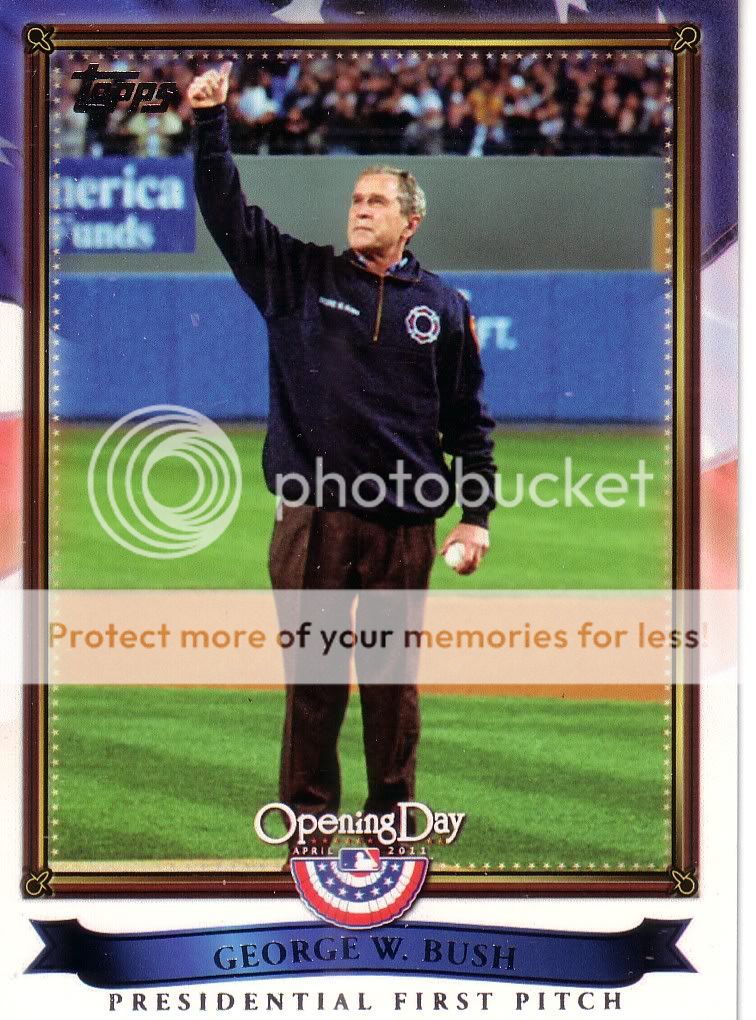 M-6 Gapper Reds Mascot
The $3 pack isn't too bad of a deal to get a decent chunk of 20 base cards and four inserts. Topps should have left ToppsTown out of this, but I actually think the Presidential First Pitch, SuperStar Celebrations, and Mascots insert sets are pretty good. The Spot the Error things are a little goofy, but they at least are something fun and interactive. I actually would prefer that the opening day base cards were the flagship base cards. I'm not all that into the foil names and all, so I wouldn't mind seeing flat print on the flagship set again. On a related note, I really like the new opening day logo. I think it's a major improvement over the last couple years. It's less busy and a little more classic style.