The Texans await the winner of this matchup. The Dolphins had a great regular season, which surprised many. The Ravens on the other hand, bad a good season like many expected.
The Ravens are without the help of the Road to the Super Bowl subset this week, but let's see how they do.
The hottest QB in the league shows up to get them started. 4 points.
I guess he was throwing it to this guy. 10 points.
Rice is a beast. 12 points.
More Flacco and Rice = more points. 14 points.
Last card: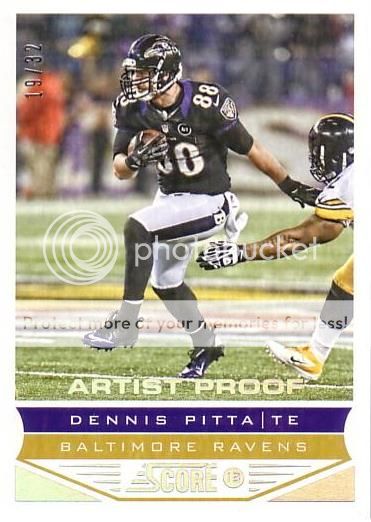 Every team needs an x-factor. The Ravens have the underrated Dennis Pitta. This card is an Artist Proof #19/32. Pretty sweet. Base card +1, Parallel +1, Numbered +1, Low Serial Number +1.
So, even without the Super Bowl cards, the Raven put up a huge number.
Do the Dolphins have it in them?
It's going to be tough to win without a QB. 3 points.
This rookie is hot! 6 points.
And, that's all she wrote. Pitiful showing by the Dolphins.
Dolphins 6
Ravens Win!