I'm a sucker for 2008 Upper Deck X. I'm trying to complete the master set (base, die cut, gold die cut, X1, X2, X3, X4). I once considered the relic and auto sets, but Griffey, Jeter, and Longoria (RC) halted that idea. Check my
want list
to see if you have anything I need.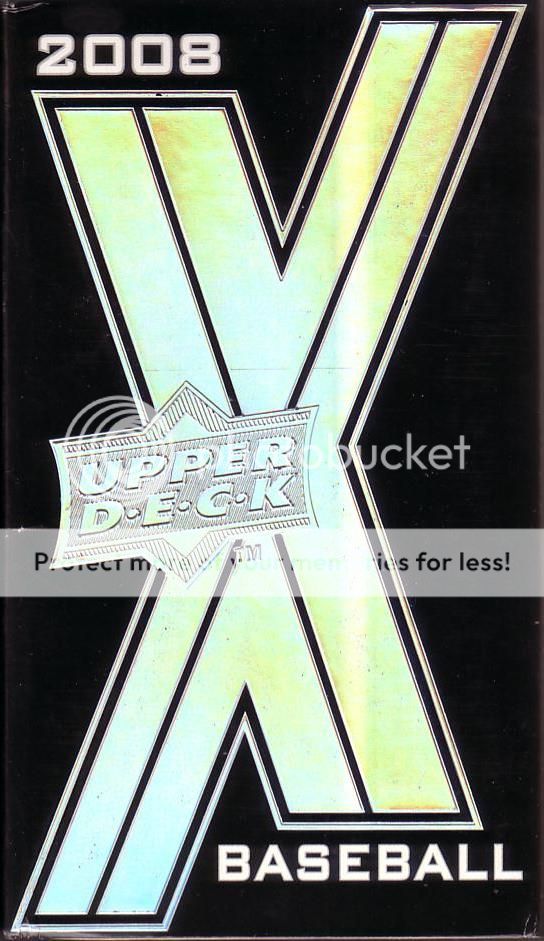 I think I own about a dozen of each of these at this point.
If I hadn't sold a lot of these a year ago on eBay, I'd probably be close to finishing the die cut set for a second time. The die cuts are pretty nice, especially this one:
I got one gold die cut, and it was one I needed:
Now at 38% completion...inching along...
This is a 2008 product, so it had YSL cards:
As for the Xponentials:
X1. I need 28 more of these for the set.
X2. Bay and Thome were new to me. 28 to go here, too.
X3, I needed this one...woohoo! Only 7 to go!
X4. I only need Soriano.
Every blaster guarantees a memorabilia card. Mine wasn't spectacular:
Oh well. I still hit some cards I needed.