12 WTF Packs,
11 Circus Circles,
10 Filthy Falcons,
9 Football Flurries,
8 Diamond Doubles,
7 Tebows Tebowing,
6 Drafty Crabtrees,
5 Colored Rings,
4 Hopping Hoopsters,
3 Boring Bowmans,
2 Chromey Footballs,
And A Value Pack of Topps Chrome.
Why not finish strong with a bunch of random crap.
Topps X Files Season 2, The Mask, 2009 Donruss Americana, 1990 UD Looney Tunes (x2), 1990 Action Packed All Madden Team, 1991 All World CFL (x3), 2010 UD Soccer (x3).
Never watched The X-Files. These cards don't make me regret that decision.
Jim Carrey in the Mask: fantastic. These cards: no fantastic. They somewhat have the feel of photos taken with a late '80s camera by your uncle at Christmas.
I got excited at first, because I thought the guy in the middle of the top row was Hootie. It was not.
I understood these when I was a kid. I terribly confused, now.

These cards are so weird. They aren't just one square piece of cardboard. They're like rounded-edge cardboard folded on top of itself. At least Aikman was good.

These are a prime example of facial expressions gone right and wrong. The first is a great action shot of goalie concentration. I love it. The second is of a guy who appears to be having a "happy moment" down below. I'm glad this is a horizontal card.
Ah, the super draft. It's like a draft, only super, and with scarves.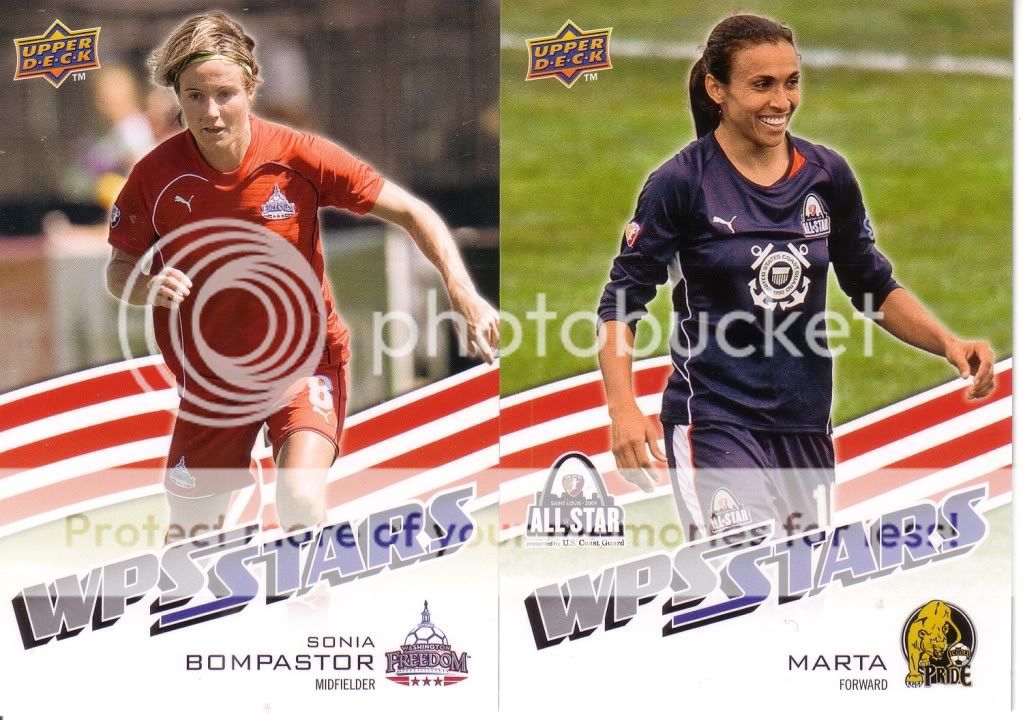 ...and the only redeeming quality of these cards: women. Marta was the FIFA POY 2006-2010. That's insane.
Hey, Warren Moon, I know that name. I'm guessing Reggie Barnes didn't make the NFL because his helmet was too small. The real draw of this set is Raghib "Rocket" Ismail. They went nuts for this guy.
Well, after that Casey Kotchman relic on the 11th Day of Christmas, I told you it was going downhill. I think we have reached the bottom. But hey, at least it's almost Christmas!